F. GRIFFITH "GRIFF" PEARSON, M.D.
1926 - 2016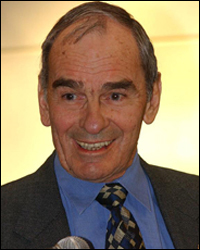 Dr. F. Griffith "Griff" Pearson, a legendary leader in thoracic surgery was born in Toronto, Canada on July 7, 1926 and died peacefully on August 10, 2016, a month following his 90th birthday. He received his secondary education at the University of Toronto School and obtained a Bachelor of Science degree followed by medical school at the University of Toronto, graduating as the silver medalist of his class in 1949. During a rotating internship at the Toronto General Hospital he developed an interest in surgery and was accepted into the Gallie surgical training course after a year hiatus. He spent that intervening year in Port Colborne, Ontario working with an experienced general surgeon. He then entered University of Toronto training program spending the initial year as a research fellow with Dr. Wilford Bigelow, investigating hypothermia in hibernating groundhogs. Dr. Pearson then received permission to defer his surgical residency for several years, and spent the next three years in the remote northern community of Wawa in private general practice, as the only surgeon in this isolated community where there were no roads and only once daily train connections with Sault Ste. Marie, a seven-hour journey. In 1955 Dr. Pearson returned to the University of Toronto, completed the surgical residency and became a fellow of the Royal College of Surgeons in 1958. He developed an interest in surgery of the chest which was emerging as a specialty at the time and became passionately focused on the management of thoracic diseases.
In 1959-1960 Dr. Pearson obtained a McLaughlin traveling fellowship which he spent abroad. The first seven months were spent as a senior house officer with Mr. Ronald Belsey at the Frenchay regional thoracic unit outside Bristol, England. He then visited Birmingham, and London England and other thoracic surgical units in Copenhagen, Aarhus, Mallo, Lund, Stockholm and Oslo.
In 1960, Dr. Pearson joined the general surgical staff at the Toronto General Hospital where he was to spend his entire career. In 1968 he was appointed to head a newly created division of general thoracic surgery at the Toronto General Hospital.
The success of this unit led to the establishment of a separate specialty certificate in general thoracic surgery by the Royal College of Surgeons of Canada which accepted Dr. Pearson's recommendations for the training requirements to obtain this certification.
Under his leadership Toronto became the mecca for aspiring general thoracic surgeons from across Canada, the United States and around the world. The graduates of the "Toronto school" – and their trainees - are prominent and well recognized international leaders in thoracic surgery.
During his McLaughlin fellowship abroad, Dr. Pearson met and observed the work of Dr. Eric Carlens at the Karolinska Institute of Stockholm, who had developed the technique of a mediastinoscopy for direct biopsy of mediastinal lymph nodes. Dr. Pearson subsequently introduced mediastinoscopy into North American practice and recognized early on the importance of staging the mediastinum in determining the most appropriate management of lung cancer. The importance of such staging in the treatment of lung cancer, whether by mediastinoscopy or other techniques, remains universally accepted and is testimony to Dr. Pearson's astute realization of its value.
Dr. Pearson's meticulous and scrupulously honest and objective long-term assessment of patients undergoing anti-reflux repairs led him to recognize the contributions of an inflamed, shortened esophagus to less than ideal long-term results. His solution, a combination of an esophageal lengthening procedure, the Collis-gastroplasty, with the Belsey fundoplication, a combination often referred to as the "Pearson procedure", remains an important part of the spectrum of anti-reflux procedures currently utilized. His reporting of the long-term results of this procedure remains a model for the evaluation and assessment of operative interventions. The series included 431 patients, with complete follow-up in 90% of patients including 250 patients followed five or more years after surgery and 101 patients followed for more than 10 years. In this regard, Dr. Pearson's complete long-term follow-up prior to presenting results, reflected those of Mr. Belsey, who often noted that "the follow-up clinics are the shoals on which founder many attractive theories in surgery". Mr. Belsey emphasized the importance of complete long-term follow-up and considered any patient lost to follow-up as a bad result when assessing the long-term results of anti-reflux procedures. Indeed he was known to send out the local constabulary to bring in any patients who failed to keep their follow-up appointments.
Dr. Pearson made many contributions to the field of airway surgery. One of his most important contributions was related to a technique of resecting benign or malignant lesions in the subglottic region, that difficult interface between the larynx and trachea. This procedure (another "Pearson procedure") provided for a partial resection of the cricoid cartilage and the upper trachea and a primary crico-tracheal anastomosis with preservation of recurrent laryngeal nerves. His pioneering leadership and early research on airway surgery and his interest and research in the area of lung transplantation set the stage for the achievement of successful human lung transplantation at the University of Toronto.
Following his term as chief of the division of thoracic surgery, Dr. Pearson served as surgeon-in-chief of the Toronto General Hospital. He was a past president for the American Association for Thoracic Surgery and internationally recognized as one of the leading figures in the field of thoracic surgery in his generation. He received the lifetime achievement award from the American Association for Thoracic Surgery and was appointed as a member of the Order of Canada, the country's highest civilian honor, for his contributions to thoracic surgery in Canada and around the world.
Dr. Pearson was an innovative thinker who by his example, instilled in all of his students the belief that hard work, a scientific approach, and perseverance can solve the toughest challenges in thoracic surgery.
Above all, Griff was a marvelous role model, as a teacher and a mentor with clarity of thought and speech and an outstanding ability to convey his message clearly. He had a natural curiosity and infectious eagerness to learn and apply new approaches to patient management. He was a pied-piper who inspired, supported, encouraged and befriended his trainees with whom he maintained an enduring and genuine friendship and a sincere interest in their careers and accomplishments. He marshaled an enthusiastic band of colleagues and co-workers, advancing our specialty and the care of his patients. He was remarkably unselfish, never sought honor or recognition for himself and was generous in giving credit to others.
Griff loved to spend time at his cabin near Mansfield, Ontario, north of Toronto. He enjoyed the outdoors, marveled at nature, and was an avid fisherman.
Dr. Pearson is survived by Hilpa, his wife of the past 30 years and by his former wife, Eva and their three children Eva Pearson-Niels, Liz and Jenny Pearson.
Dr. Pearson, by his contributions and stature has earned his place in the pantheon of our specialty. His impact will long be felt far and wide, and those of us privileged to know and work with him owe him a special debt of gratitude and appreciation.
JOEL D. COOPER, M.D.
SHAF KESHAVJEE M.D., M.Sc.