FREDERICK P. HERTER, M.D.
1920-2015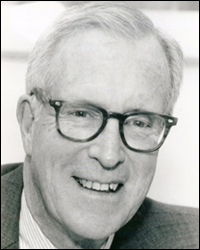 Frederick Pratt Herter, Auchincloss Professor Emeritus of Surgery, College of Physicians and Surgeons, Columbia University died peacefully at home in New York City on November 7, 2015, (as he would have said), in his 95th year, surrounded by Solange, his wife of 40 years and by other members of his family. He was blessed with a long and interesting life.
Fred came from a distinguished American family. His mother, Mary Caroline Pratt was the granddaughter of Charles Pratt, oil tycoon and philanthropist who founded the Pratt Institute, the first free college in the United States, which is still flourishing today. His father, Christian Herter, was Governor of Massachusetts and, later, Secretary of State in the Eisenhower administration.
After graduating from St. Paul's School in Concord, New Hampshire. Fred went on to Harvard University and thence to Harvard Medical School, graduating in 1944 with an MD and a commission as a 1st lieutenant in the Army Medical Corps. He had secured an internship at Presbyterian Hospital (now New York-Presbyterian) but his training was interrupted by two years of military service (in Japan, as a member of the Occupational Forces1945-1947). He completed his surgical residency under Dr. Allen O. Whipple and his successor Dr George H. Humphreys, then joined the surgical faculty of The College of Physicians and Surgeons in 1954.
He rose through the academic ranks to full professorship and was appointed the Auchincloss Professor of Surgery, a position he held until his mandatory retirement at age 65.
During these years he was a Consultant at Goldwater, Harlem and St. Luke's Roosevelt Hospitals, Director of Surgery at Francis Delafield Hospital and served as Interim Chairman of the Columbia Department of Surgery from 1969-1971. In 1992 he received the Distinguished Service Award, the highest honor bestowed by the medical school.
Upon retirement his second career became his involvement with the American University of Beirut as university president during the tumultuous years of the Lebanese war and, later, as President of the Board.
During his life his civic and humanitarian bent led him to membership on the Board of Episcopal Social Services in New York and, with his wife Solange, he was a trustee of the Episcopal Cathedral of St. John the Divine. He became a trustee of the Mary Imogene Bassett Hospital in Cooperstown, New York and of the Jackson Laboratories in Maine.
At Columbia he was a leading figure in the area of surgical oncology before it became a recognized specialty and had special interests in the management of melanoma and colon cancer.
Many of us recall that tall, courtly gentleman, a superb and charming public speaker, soft-spoken and readily approachable, a charismatic figure, knowledgeable, ethical and persuasive.
He was highly respected as a teacher at the bedside and in the operating room - a good listener and a caring physician. He had an enviable bedside manner, an always comforting and reassuring relationship with the ill, which continued with his interest in death and dying, inspiring him to write on the subject of thanatology. Remarkably skilled in the operation room, he was sought after disproportionately to help in the care of clinic patients. It was the ultimate compliment as a resident to hear him say "that's the ticket". That was how you knew that you had his approval for some maneuver you executed which Dr. Herter recognized he had taught you or you had copied from him. Fred was forever grateful to his teachers and mentors for the investment they made in him and which he sought always to pass on to the next generation. "A Proud Heritage - An Informal History of the Department of Surgery" of which he was senior editor (with Alfred Jaretzki and Kenneth Forde) reflects this abiding appreciation.
A giant in so many ways, he was a warm, thoughtful friend and, as detailed in his recent autobiography "May I Cut In?", while he enjoyed the social advantages of his pedigree, he did not shrink from an abiding humanitarianism. He said it best. In this autobiography he quoted his revered great grandfather Charles Pratt who, at the Founder's Day ceremonies of the Pratt Institute in 1887 said:
"I wish I could convince you of the belief I have in the power of the life and purpose of a young man or woman, and the influence they may have for good in this world....[T]ry to find the strong points in those around you and help make the world better and brighter...So keep busy. Honest effort will make work a pleasure, and overcome all difficulties. Working for the genuine and true will sweeten and give courage to life."
KENNETH A. FORDE, M.D.
CRAIG R. SMITH, M.D.