JAMES MAY, M.D.
JAMES MAY, AC, MD 1934 - 2021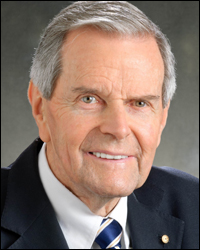 James (Jim) May, a pioneer of endovascular surgery, passed away in Sydney, Australia on March 19th 2021 after a long illness, which he bore with his customary grace and good humour. Born and raised in a rural community, Jim undertook his undergraduate medical training at the University of Sydney and went on to complete his internship, residency and surgical training at the Royal Prince Alfred Hospital in Sydney. His future as an academic surgeon was foreshadowed when he successfully applied to work as a Research Fellow in the Department of Surgery of the University of California, San Francisco in 1964, shortly after Dr J Engelbert (Bert) Dunphy had been appointed as Professor and Chairman. The following year Jim crossed the Atlantic to spend a year as a clinical academic at the University of Manchester in the United Kingdom. He then returned to Sydney to a clinical academic position, went on to develop a busy practice in general and vascular surgery, and in 1979 was appointed as the Bosch Professor of Surgery at the University of Sydney, succeeding the late Sir John Loewenthal. As well as occupying his university position, Jim was appointed Head of the Division of Surgery at the Royal Prince Alfred Hospital. Having become a Fellow of the Royal Australasian College of Surgeons in 1962, Jim made many contributions to the College, serving as a member of the Court of Examiners for General Surgery, and subsequently as chairman of the Section of Vascular Surgery. He also became chairman of the Training and Accreditation Committee of the Vascular Section of the College, and later became a member of the Court of Examiners for Vascular Surgery. Having received his initial medical degrees of Bachelor of Medicine and Bachelor of Surgery from the University of Sydney in 1958, Jim was awarded the degree of Master of Surgery in 1979 and Doctor of Medicine in 1999. He was elected as a Fellow of the Royal Australasian College of Surgeons in 1962, and as a Fellow of the American College of Surgeons in 1983.
During his 35-year tenure as Bosch Professor of Surgery, Jim May made many remarkable contributions. He was responsible for the introduction of endovascular surgery in Australia, and received international recognition for his innovation in this field. He was a member of the Board of Directors of both the International Society for Endovascular Surgery and International Society of Endovascular Specialists, and was elected President of the latter society in 2005. He received many prestigious awards in his working lifetime. Notable amongst these was the Henry Simpson Medal of the Australian Medical Association, a Kellogg Fellowship, appointment as a Sims Commonwealth Travelling Professor by the Royal College of Surgeons of England, and a Distinguished Lifetime Achievement Award from the Vascular Surgical Society in the US. He was elected as a member of the James IV Association of Surgeons, and as an Honorary Fellow of the American Surgical Association. In 2001 he was awarded Australia's highest civilian honour, being made a Companion of the Order of Australia (AC) "for service to the advancement of vascular surgery throughout the world, particularly through pioneering the introduction of endoluminal methods for the treatment of diseased arteries, placing Australia in the forefront internationally in this field".
Apart from his clinical and research activities, the period of Jim's tenure as the Bosch Professor of Surgery at the University of Sydney was marked by many innovative developments in undergraduate and postgraduate medical and surgical teaching. One of his most important contributions was the development of a well-organised postgraduate Master of Surgery degree course, which has already encouraged several generations of surgeons to incorporate research activities into their day-to-day surgical practice. Jim was an outstanding teacher, with a keen sense of humour that encouraged students to remember the messages that he was seeking to convey and not to take themselves too seriously. He could always be relied upon to enliven scientific meetings by asking the most fundamental questions in a way that allowed others in the audience to feel less embarrassed by their ignorance, and encouraged speakers to explain their subject in a more comprehensible manner.
An outstanding surgeon with superb technical skills, Jim May was a mentor and role model to many, the writers of this tribute included. An event which has become hospital folklore illustrates well his tolerance and unflappable temperament. He was performing a cadaveric renal transplant in the wee small hours of the morning, assisted by a seriously sleep-deprived intern. Having spent 45 minutes completing a particularly difficult anastomosis of the donor renal artery, Jim asked his assistant to cut the final suture that he had just tied. When there was no immediate response, Jim politely asked again, just a little louder "Cut please, doctor". The hapless intern, who had been quietly resting his tired eyelids while still holding a large pelvic retractor suddenly awoke, lurched forward with an open pair of scissors and cut completely across the newly anastomosed artery. Jim paused for just a moment, then said quietly, "Really doctor, you must be more careful", before the replacing the vascular clamps and preparing to re-anastomose the artery (The patient did well, and the intern went on to a successful but non-surgical career!).
Jim May was a truly remarkable man, a master surgeon, a clinical academic par excellence, with a warm personality and a dry wit that made him a much sought after after-dinner speaker. His contributions to academic surgery have been remarkable, and he will be sorely missed not only by his family, but also by large numbers of colleagues in Australia and around the world who benefitted greatly from his teaching, guidance, inspiration and friendship.
JOHN F. THOMPSON, MD
JOHN P HARRIS, MS