JAMES RODERICK JUDE, MD
1928 - 2015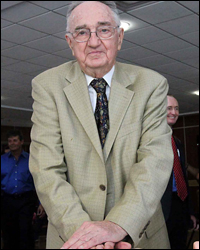 Dr. James Jude, sometimes called the "father of cardiopulmonary resuscitation" passed away from complications of Parkinson's disease, surrounded by his family in his home in Coral Gables, Florida. A native of Minnesota he graduated with his Bachelor of Science and MD degrees from the University of Minnesota in 1953. In the late 50s, cardiac resuscitation after cardiac arrest could only be treated by thoracotomy and direct cardiac massage, and he posited that there had to be a better way. In collaboration with two other investigators interested in electrical cardioversion, he experimented on over 100 dogs demonstrating that external cardiac compression was effective. In 1960, the landmark article "Closed-Chest Cardiac Massage" was published in JAMA by Kouwenhoven, Jude, and Knickerbocker. By 1963, the American Heart Association had endorsed Cardiopulmonary Resuscitation as the standard of care, and this seminal discovery has clearly saved tens of thousands of lives.
He initially was a faculty member at Johns Hopkins, but was recruited to the University of Miami in 1964 as Chief of Thoracic and Cardiovascular Surgery, practicing at Jackson Memorial Hospital. In addition to developing an academic cardiothoracic program, he popularized the technique of CPR, including training paramedics. He chose to go into private practice in Miami in 1971, and was recognized as one of the leaders in the rapidly evolving field of cardiac surgery, with an extremely busy practice. He was an early adopter of saphenous vein grafting for aortocoronary bypass, and published extensively on caval plication and inferior vena cava umbrella insertion for prevention of pulmonary embolism. He continued to be academically productive and maintained a strong relationship as a voluntary faculty member at the University of Miami.
In spite of the enormous positive benefit of CPR, he was humble about this accomplishment, and sometimes referred to it as being serendipity-but his was the prepared mind that was ready to recognize that this could work. Only a few people have been responsible for saving more lives than Dr. Jude. The field of cardiac surgery has lost a great innovator, the University of Miami Miller School of Medicine has lost a great friend, and his large surviving family has lost a beloved patriarch. He will be sorely missed but long remembered.
ALAN LIVINGSTONE, M.D.