JOHN A. MANNICK, M.D.
1928 - 2019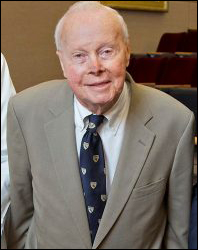 It is an honor to provide a memorial minute as we mourn the passing of an inspirational surgeon leader, John A. Mannick. John was the consummate surgeon-scientist, masterful administrator, and devoted mentor to many.
Dr. Mannick was born in Deadwood, South Dakota. His father was an engineer and his mother taught high-school English. As a youngster, his family moved to Yakima, Washington, where he graduated from high school. He then enrolled at Harvard College. At Harvard, he majored in history and literature, graduating magna cum laude and Phi Beta Kappa. Besides a robust liberal arts education, he took required pre-medical science courses. In short order, he matriculated to Harvard Medical School, gaining his M.D. degree in 1953. Upon graduation, Dr. Mannick joined the Air Force and served in Sacramento and San Antonio. Upon completion of his Air Force obligation, where he rose to the rank of Captain, he completed a surgical residency at Massachusetts General Hospital. Although he was counseled by his mentors to perform a fellowship at the NIH, John chose a fellowship in the laboratory of Dr. E. Donnall Thomas (a future Nobel Laureate) studying transplantation biology at the Mary Imogene Bassett Hospital in Cooperstown, New York. Dr. Mannick became a pioneer in the new field of transplantation, focusing on lymphocyte biology.
John's first faculty position was working with another transplantation pioneer, Dr. David Hume, at Medical College of Virginia (now Virginia Commonwealth). John became a fast friend with Richard Egdahl, another junior faculty member both practicing general surgery. As the story goes, Dr. Hume summoned both Doctors Mannick and Egdahl to his office, advising them that they should subspecialize. Both vigorously protested, and as the story continues, Dr. Hume flipped a coin, assigning Dr. Mannick to be a vascular surgeon and Dr. Egdahl to be an endocrine surgeon.
Shortly thereafter, Dr. Egdahl left Virginia to become Chair of Surgery at Boston University. Dr. Egdahl recruited John back to Boston to become the Residency Program Director at Boston University where he eventually succeeded Dr. Egdahl as Chair of Surgery. John was then recruited to succeed Francis Moore as the Chief of Surgery and Moseley Professor of Surgery at the Peter Bent Brigham Hospital. This was a time of transition at Peter Bent Brigham Hospital as it merged with Robert Breck Brigham Hospital (orthopedics) and Boston Hospital for Women (gynecology). This merger resulted in Affiliated Hospitals Center which subsequently became Brigham and Women's Hospital.
John presided over unprecedented growth of surgical services at Peter Bent Brigham/BWH. He facilitated the integration of Harvard Community Health Plan surgeons into the staff at BWH. Several of these surgeons became outstanding teachers for the surgical residents at BWH. All the while, the academic faculty continued to build strong programs in cancer, cardiac, thoracic, and vascular surgery, especially.
John built exceptional research programs led by surgeons. These surgeon-scientists made major contributions in the fields of transplantation biology, vascular biology, tumor immunology, nutrition, pulmonary physiology and injury/sepsis, and received generous NIH funding. John was not only a tremendous role model, but created opportunities for each of these investigators to flourish in the Brigham environment. One measure of success was the number of presentations at the Surgical Forum of the American College of Surgeons. John was particularly proud of the times when the Brigham faculty had the most abstracts presented at the forum. His own laboratory continued to make significant contributions even after his retirement as Chair of Surgery, when his NIH-funded research focused on abnormal lymphocyte responses that occur after injury. His track record for continuous NIH funding is unequalled.
As a vascular surgeon, he was always well prepared, thorough, and meticulous. He pioneered extra-anatomic bypasses and was a master technical surgeon, especially when performing delicate distal reconstructions. He welcomed general surgery residents into his operating room and many learned their first vascular anastomoses under his watchful eye. What he taught his general surgery residents in terms of technical innovation was of incalculable value throughout their careers.
As a medical administrator John was inspirational. Always punctual, even his OR cases started exactly on time. Meetings were incredibly efficient. He was always ready with his incisive wit to defuse confrontation or provide support. He was also remarkable in that he always carried a very thin briefcase and his desk was always clean by the end of the day. He governed his department with a small council of elders and decision-making was efficient, fact-based and emphasized what was best for patient care.
John's example and mentorship helped develop a number of leaders in our field. His mentees became chairs of Departments of Surgery at Washington University in St. Louis, National Children's Medical Center, University of Wisconsin, the New England Deaconess Hospital, the University of Florida, and Seattle Children's Hospital, to name a few. He also produced several Deans, CEO's, and innumerable Division Chiefs throughout the country. John was an avid tennis player and in later years became an enthusiastic golfer. He received many honors, leading the Society of Vascular Surgery, being president of the American Surgical Association and receiving the Lifetime Achievement Award of the Society of Vascular Surgery. He was particularly proud of his honorary fellowship in the Royal College of Surgeons of England.
John was not only a role model professionally but also personally. He met the love of his life, Virginia, while she was at Radcliffe, in an organic chemistry class before medical school. He was particularly impressed when he discovered that she outperformed the rest of the class on their exams. A blind date subsequently led to their eventual marriage. "Ginny "and John were great partners throughout his career and were an inseparable duo at meetings. As John was frequently quoted saying, "Behind every successful surgeon stands a spouse, astonished!" While Ginny predeceased him, as her health declined, he was a remarkably devoted and tender care giver. He leaves behind his most important legacy: three very successful children and seven grandchildren. His legacy in surgery is legendary, he will be missed by all.
FRANCIS D. MOORE, JR., M.D.
TIMOTHY J. EBERLEIN, M.D.