JOHN LOCKWOOD OCHSNER, M.D.
1927-2018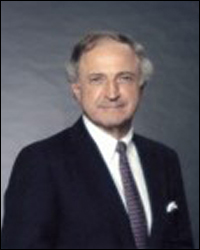 To call John L. Ochsner unique is a direct attack on the meaning of that word. He is most unique but the word technically has no comparative. There are many members of the American Surgical who consider themselves "The King of Hearts". He was literally the king of hearts and lived a unique life's experience, often unnoted in the typical obituary.
He had the privilege of following his father in practice at the Ochsner Clinic, which is one of the five great multidisciplinary clinics in North America. The clinic is part of a story now, too long and buried in legend, in which Dr. Ochsner offered to make a very commodious arrangement for Tulane to ultimately have a significant ownership interest in the clinic provided that they permitted him as full-time Professor and Chair to continue to practice there in hopes that other faculty would do the same. Dr. Alton Ochsner was at least three decades ahead of his time and the Medical School has been hundreds of millions of dollars the loser in that decision. John's medical background is a clear one in which he went to school at Tulane and finished residency at Baylor and Texas Children's with Michael Debakey and Denton Cooley, both also of this Association.
The relationship with Dr. DeBakey only came clear to many of us during a transient period of time in which Dr. Ochsner preceded Dr. DeBakey as President of the Southern Surgical Association. Many people will have forgotten that many fundamental major reviews of general surgery done in the late 1930's and early 40's was under the authorship of DeBakey and Ochsner (Alton). It is also widely unknown that Dr. Debakey was regularly a babysitter for John during the time his parents traveled extensively. Many of us enjoyed hearing John, having preceded Dr. DeBakey as President of the Southern, and the give and take about their prior relationship over the course of those two annual meetings were remarkable. John then returned to the Ochsner Clinic where he achieved so many things after his training in Houston. John created a viable Institute at Ochsner and is, I believe, the only heart surgeon to be president or chair of the three major cardiothoracic medical societies; American Association for Thoracic Surgery, International Society for Thoracic Cardiac Surgery, and Chair of the American Board of Thoracic Surgery. He authored more than three-hundred papers and lives on, in some sense, through the John Ochsner Heart and Vascular Institute at the Clinic in New Orleans.
It would be wrong to not emphasize his recognition as the King of Carnival at the 1990 Mardi Gras. There are many members of the American Surgical who are honored and respected in special ways in their own home community, but King of Carnival is unique and probably the most highly sustained. John and his wonderful wife, Mary Lou, loved every minute of it and his daughters subsequently made their debuts as Maids of Mardi Gras. It is not a surprise that he received the Mayor's Medal of Honor in New Orleans and his passion and contribution to the city, region, and state were really remarkable and never ending.
John was surely a man "in full" in all such meanings. His great friend, Al Stall, Sr., made regular visits to Louisville for the Kentucky Derby and John was always part of the entourage, although he was much more conservative with his bets than Mr. Stall was! Betting $50,000 on one of his own short odds horses was a pattern and the very small payoffs were the lagniappe that paid the week's expenses! Just as John's young family continues contributing to New Orleans, Mr. Stall's son has become one of the more successful thoroughbred horse trainers in mid-America and also a man of leadership and integrity as John would have expected. Notably, on Monday Night Football on October 8, 2018, a million gift by the Benson family, who own the winning Saints, was presented to the Ochsner Clinic for cancer research. In the background photo was Johnny in his often soiled white coat. A few anecdotes that came from trainees, social, and racetracks are quotable. One, on being asked who was New Orleans' best surgeon, Johnny O said "Me, of course! What is really hard is choosing #2!"
John Ochsner is a passage of not only personal legend, but also a person who is a legendary representative of an era in America life, not soon to be repeated.
HIRAM C. POLK, JR., M.D.