JOHN S. NAJARIAN, M.D.
1927 - 2020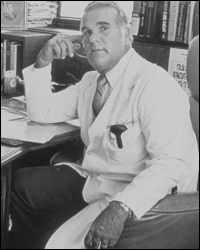 John Sarkis Najarian, a pioneering leader in the field of organ transplantation and a mentor to hundreds of surgical specialists, died August 20, 2020 near the Twin Cities in Minnesota, where he lived and worked during a notable surgical career.
John was born to Armenian immigrant parents who left Turkey and had established a successful business as rug purveyors in the California bay area. It was in Oakland that John grew up as a middle child, interested in sports, and sneaking into Cal football games. But at age 12, his life took a turn because of two shattering events. First his father died suddenly, leaving the family in shocked uncertainty regarding their future and, shortly after this event, John experienced life-threatening complicated appendicitis which necessitated an operation and a prolonged hospitalization. It was during this ordeal, in response to his admiration for his nurse caregivers and doctors, that John refined his life goals and decided to become a physician. In his memoir, The Miracle of Transplantation – The Unique Odyssey of a Pioneer Transplant Surgeon, he relates that he developed a new attitude about school and from then on, he was driven to become a successful scholar as well as a star athlete. He went on to the University of California for his undergraduate and medical education, playing in the 1949 Rose Bowl while a first-year medical student.
After receiving his medical degree in 1952, John stayed right at home and began his surgical training at the University of California, San Francisco as a trainee first of H. Glenn Bell and later, Leon Goldman. His surgical residency, interrupted by service in the Air Force as well as supplemented by laboratory research, was completed in 1960. It was during this surgical training that John became interested in what was then a fledgling field: organ transplantation. This interest led him to accept a post-doctoral position with Frank Dixon, an immunologist, first at the University of Pittsburgh and later at the Scripps Clinic in California, where John produced an impressive portfolio of research papers and became a card-carrying immunologist in his own right.
When he joined the surgical faculty at UCSF in late 1963, John was given the task of establishing a transplant program. The rise of this program, aided by the recruitment of Folkert Belzer as his colleague, later made him a prime candidate for surgical leadership and at age 39 he moved to Minneapolis to replace the retired Owen Wangensteen as only the second chairman of the Department of Surgery at the University of Minnesota.
As chair at Minnesota, John took the legacy of Wangensteen as a developer of surgical leaders even further and established a "Minnesota school of transplantation" that has produced over 100 leaders in transplantation surgery and enriched innumerable careers of surgeons, physicians, nurses, immunologists and others, all while continuing the rich tradition of academic general surgical training that had been developed during the Wangensteen years.
During his 25 years as chairman of surgery, the University of Minnesota retained and enhanced its position as a breeding ground for academic surgeons and many of the members of the American Surgical Association are products of this program. John served as president of the Association in 1988, an office he regarded as a special honor among the many bestowed on him.
Soon after arriving at Minnesota, John saw that he needed additional help in developing his vision of a transplant program and he recruited Richard Simmons to join him. Their collaboration over the years until Dick left Minnesota to lead the department at Pittsburgh placed the Minnesota transplant program among the most prolific and successful in the world, with outcomes that were exemplary and academic output that was extraordinary. Part of this academic output was a series of papers by the team reporting the outcomes in various subgroups of kidney transplant patients that served as examples of the results that were possible with the available forms of treatment at the time. These subgroups included diabetic patients, pediatric patients, and patients with devastating metabolic syndromes such hyperoxaluria and Fabry's disease. The anti-lymphocyte globulin (ALG) for injection that was being produced locally by the Najarian team was seen as necessary, however, to reproduce these results and transplant programs, particularly those run by Minnesota trainees, began to clamor for the drug. The development and early use of Minnesota ALG was reported to the ASA at the 1976 annual meeting and was ultimately approved by the FDA and the use of the drug spread nationally. This continued for about 20 years, supported by an approved cost recovery program, until there was a sudden stop to the use of the material initiated by the FDA. This was then further complicated by an investigation by the Justice Department. In 1993, he resigned as chair of surgery, but continued his beloved work in transplant and general surgery until his retirement from the operating suites several years later. A John S. Najarian, M.D., Surgical Chair in Clinical Transplantation was established in 2007 through a fund-raising campaign directed by the Minnesota Medical Foundation.
In addition to his presidency of the ASA, John was elected to lead the American Society of Transplant Surgeons (1977-78), the Transplantation Society (1994-96) and the Pediatric Transplantation Society (1998-2000), among others. He was elected an honorary fellow of the Royal College of Surgeons of England in 1987 and he and Richard Simmons were together awarded the Medawar Prize in 2004 the highest honor of the Transplantation Society.
John had a strong and enduring commitment to his family. He met his wife Mignette when he was a third-year medical student and they were married in her hometown of Benton, Minnesota in 1952, just before John graduated from medical school. Married for 67 years before her death in 2019, John and Mignette had 4 sons, all of them accomplished athletes as young men. Those of us who were members of the faculty can remember with great clarity the relief we felt when the Najarian clan arrived to reinforce our team at the annual resident versus faculty softball game and picnic. Even though they were still schoolboys, they looked like the four horsemen as they arrived to supplement our team and give us a fighting chance against the younger, fitter residents. They were, along with their now growing families, truly John's pride and joy.
John Najarian was a truly imposing figure in American surgery for the latter half of the 20th century. His physical size and impressive intellect combined to make him an unforgettable figure who created a lasting imprint on the history of surgery.
WILLIAM PAYNE, M.D.
SAYEED IKRAMUDDIN, M.D.