NORMAN C. NELSON, M.D.
1929 - 2016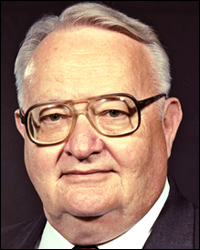 Norman C. Nelson, the longest serving Vice Chancellor for Health Affairs and Dean of the School of Medicine at the University of Mississippi Medical Center, was born in Hibbing, Minnesota on July 24, 1929 and died in Brandon, Mississippi on April 21, 2016. He attended Tulane University in New Orleans, Louisiana where he earned his B.S. in 1951 and M.D. in 1954. An outstanding student, he was selected for membership in the academic honor societies of Sigma XI, Phi Kappa Phi and Alpha Omega Alpha.
Dr. Nelson interned at Charity Hospital in New Orleans from 1954 to 1955, and then then spent a year in private practice. In 1956 he entered the military, serving on active duty as a captain in the Medical Corps, USAR with the 101st Airborne Division for two years. He subsequently trained in general surgery at Charity Hospital from 1958-1962, and then completed a U.S. Public Health Service Clinical Research Fellowship at Harvard and the Massachusetts General Hospital from 1962-1963.
In 1963 Dr. Nelson returned to New Orleans to begin his academic career, joining the surgical faculty at Louisiana State University Medical Center. He quickly rose through the ranks becoming an associate dean in 1969 and dean of the medical school in 1971.
Dr. Nelson moved to Mississippi in 1973, beginning his 21-year tenure as Vice Chancellor for Health Affairs and Dean of the School of Medicine at UMMC. When he arrived, UMMC was a small institution consisting of two health professional schools, a teaching hospital and a small research program. By the time he retired in 1994, he had transformed the institution into a nationally respected health sciences campus with four health professional schools, a major teaching hospital and a robust research program. He oversaw the largest physical plant expansion in the state's educational history, including the construction of eight new buildings. In addition to leading the medical center, Dr. Nelson remained clinically active during his time as Vice Chancellor and Dean at UMMC. His practice was limited to thyroid and parathyroid surgery, and he trained a generation of surgery residents in the finer points of those operations. He was a meticulous and technically precise surgeon who stressed proper surgical technique. He did not use electrocautery, and it was often said that "Dr. Nelson could ligate and divide a red blood cell between 4-0 silk ties."
During his career, Dr. Nelson received numerous awards. From 1965 to 1970, he held a John and Mary R. Markle Fellowship, one of the most coveted honors in academic medicine. In 1969 he received the Arthur M. Shipley Award from the Southern Surgical Association. Other honors included the 1985 (and first) Herman Glazier Award as the Outstanding Public Administrator from the Mississippi Chapter of the American Society for Public Administrators; the 1989 Outstanding Alumnus Award from the Tulane School of Medicine; and a 2013 Hall of Fame election by the Medical Alumni Chapter of the University of Mississippi Alumni Association.
A dedicated teacher, education was his passion. Dr. Nelson received a total of eight teaching awards during his time on the faculty at LSU. He continued to display that passion at UMMC, where he frequently told his faculty and staff that the "only reason we have a job is because of our students because the institution's principal mission is to train health professionals for Mississippi." In 1999 the student union at UMMC was dedicated in his name. This was certainly the most cherished of the many honors he received during his lifetime.
Dr. Nelson suffered a stroke several years ago, which confined him to a wheelchair and limited his ability to speak. This did not prevent him from participating in UMMC and community functions, as he remained active despite his disability. He is survived by his wife of 61 years, Annie Lee, and their 3 children.
MARC E. MITCHELL, M.D.