OSCAR SALVATIERRA, JR., M.D.
1935 - 2019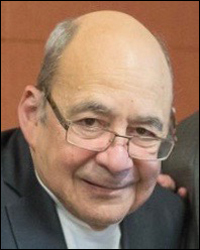 Oscar Salvatierra, Jr., M.D., was born April 15, 1935, in Phoenix, Arizona, one of six children of Josefina Garcia and Oscar Salvatierra Sr. He completed medical school at the University of Southern California in 1961, followed by a residency in urology at the same institution. Salvatierra served in the U.S. Army Medical Corps in Vietnam before beginning a postdoctoral fellowship in transplant surgery at the University of California-San Francisco in 1972. He remained as a faculty member and eventually he became the Chief of the UCSF transplant program from 1974 to 1991, when he moved to Pacific Presbyterian Medical Center, now known as California Pacific Medical Center. In 1994, Dr. Salvatierra left for the Lucile Packard Children's Hospital Stanford to establish the hospital's pediatric kidney transplantation program. Dr. Salvatierra retired from his clinical responsibilities in 2006, becoming associate dean for medical students at the School of Medicine, a position he held until 2015.
During his career, Dr. Salvatierra pushed for better and safer kidney transplantation. He pioneered the use of donor-specific blood transfusions in living donor kidney transplantation, which set the stage for later studies of kidney/bone marrow transplantation to induce tolerance. He made important contributions to pediatric kidney transplantation, including the technical issues involved in transplanting large adult kidneys into small infants, and developing a successful strategy of steroid avoidance in pediatric patients using a protocol that has been adopted at many centers worldwide. Dr. Salvatierra published over 300 papers during his career, some of which highlight pivotal scientific contributions to the field, and others, reflect his unique capacity to mentor the next generation of physician-scientists.
Dr. Salvatierra was a supreme leader for the transplant community. He was the president of the Transplantation Society, the American Society of Transplant Surgeons, and the United Network of Organ Sharing. In this role he helped to draft the National Organ Transplant Act of 1984 and worked with former vice president Albert Gore to bring this bill to fruition. The Act established a nationwide network to enable the fair and equitable allocation of donor organs to patients across the country. It has served as a model for laws regulating organ transplantation around the world.
Finally, Dr. Salvatierra received many major awards during his career, including knighthood by the Republic of Italy, the presidential medal from the President of Argentina, a special commendation resolution by the California State Legislature, the UCSF Chancellor's Award for Public Service- a special recognition award by the UCSF Chancellor, and Stanford's Rambar-Mark Award for Excellence in Patient Care. In 2019, the International Pediatric Transplant Association recognized him with a lifetime achievement award. Oscar also received the Franklin Ebaugh Award for outstanding Medical Student Advising at Stanford.
Dr. Salvatierra was a rare combination of someone who had a love of life and a firm understanding of what was important — the simplicity of living a life with those you love. His life motto was "life is about people"; he lived life with a lens that always emphasized the good in others.
Oscar Salvatierra, Jr., MD, passed away on March 16, 2019, after a long illness; he was 83 years old. He leaves behind his beloved wife, Pam, his two children Lisa and Mark, and 5 siblings.
CARLOS O. ESQUIVEL, M.D., PH.D.