PAUL R. SCHLOERB, M.D.
1919 - 2018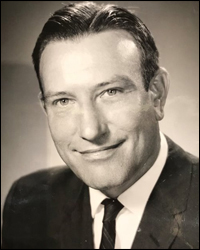 Dr. Paul Richard Schloerb passed away peacefully at home surrounded by family on December 29, 2018. He is survived and cherished by Louise, his wife of 68 years, 5 children, 11 grandchildren and 8 great-grandchildren. Dr. Schloerb was born in Buffalo, New York on October 22, 1919. Following high school, he was accepted to Harvard University and received an AB degree in 1941. He attended the University of Rochester School of Medicine and Dentistry and obtained his MD degree in 1944. He was an intern in surgery at Strong Memorial Hospital, Rochester, New York and served in the US Naval Reserve as Lt(jg) (MC) USNR. He entered the active Navy and was the Port Surgeon in Saipan from 1945 to 1946 where he had many interesting surgical experiences during that period. From 1947 to 1948, he was a Post Graduate Fellow in Pathology at the University of Rochester with Dr. G.H. Whipple and an Assistant Resident in Surgery. This was followed by a one-year National Research fellowship in 1949 in the Department of Surgery at Massachusetts General Hospital and the Peter Bent Brigham Hospital under the directorship of Dr. F.D. Moore. In 1950, Dr. Schloerb married Louise Grimmer and completed his surgical residency at Peter Bent Brigham in November 1951.
He then returned to Rochester as Instructor in Surgery. In April 1952, Dr. Schloerb performed a top-secret research study on flash burns from two atomic bomb detonations at the Tumbler-Snapper Nuclear test site in Nevada. In July 1952, Dr. Schloerb was recruited as Assistant Professor of Surgery, University of Kansas by Dr. Paul Schaefer, Chair of Surgery. His academic career at Kansas was disrupted from 1953 to 1954 when he was called back to naval service during the Korean War and served on the aircraft carrier USS Boxer. His research efforts at Kansas centered around investigations of body fluids, shock, kidney failure, sepsis and nutrition. He served as the Dean of Research for seven years beginning in 1972. In 1979 Dr. Schloerb returned to Strong Memorial Hospital as Director of Nutritional Support Services and the Surgical Intensive Care Unit. He returned to Kansas in 1988, soon became Director of Nutritional Support Services and further refined a popular electronic parenteral and enteral nutrition website. He continued his investigations in clinical nutrition which greatly benefited patient care and the many trainees he supervised. He finished at the University of Kansas in 2007 as Professor of Surgery Emeritus.
Beginning with his early research with Dr. G.H. Whipple and Dr. F.D. Moore, Dr. Schloerb had a strong drive for a life of discovery and maintained 36 years of continuous NIH research support. Dr. Schloerb had great pride in being the first research fellow of Dr. F.D. Moore. During his fellowship he measured Total Body Water for the first time in a group of normal men and women, using deuterium oxide (heavy water). Recognizing the importance of research mentorship, Dr. Schloerb mentored 88 medical students and residents in the "classroom" of his research laboratory and coauthored many papers with these individuals. Beginning during Dr. Jared Grantham's medical school days, Dr. Schloerb began as his mentor. Dr. Grantham later founded the Journal of the American Society of Nephrology and started the Polycystic Kidney Disease Foundation and credited Dr. Schloerb as his "academic father." Two noted academic surgeons that had early tutelage from Dr. Schloerb were Dr. Doug Wilmore and the late Dr. George Blackburn.
As a former trainee and colleague, I remember Dr. Schloerb as a friend and mentor. I always recall his strict requirement to be precise and knowledgeable in both patient care and research. I remember how often he expressed his deep respect for his mentors and those he had the privilege of mentoring. Dr. Schloerb remained academically active until the last few years of his long life, by attending weekly conferences as well as national meetings. Our profession and Association will sorely miss this caring, gentleman scholar.
NORMAN C. ESTES